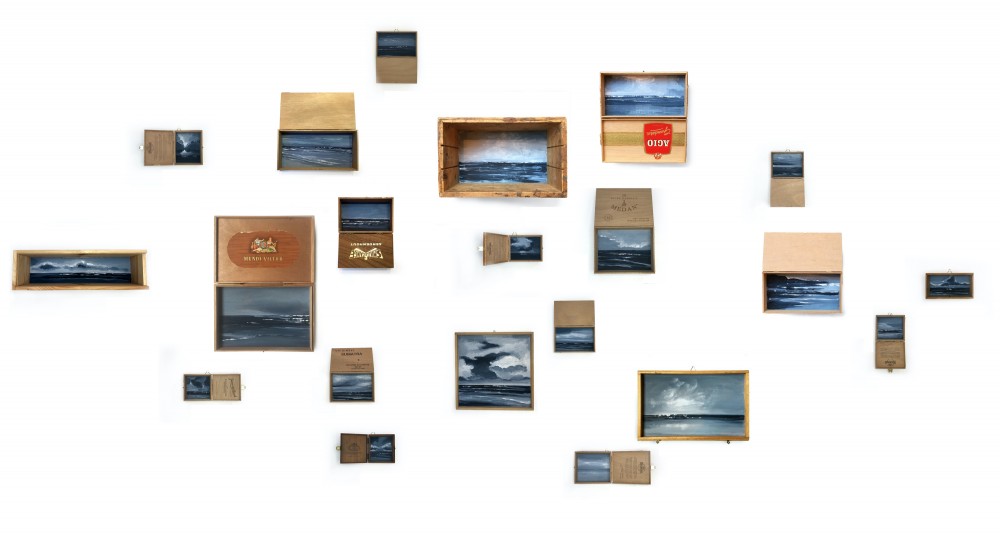 .esther van der eerden
in 2009 i visited an exhibition showing an installation of painted boxes; 'memories in a box'. i fell in love with it and, silly enough, did not note the artists name. years later i still could not forget the box paintings and tried to find the artist. through the archives of the gallery i found her; esther van der eerden. i contacted her and bought one box out of the installation that pictures her grand parents. at the same time, right at the start of my physical store in 2014  i presented this series as a successful part of the collection.
esther van der eerden (1972) finished the art academy Koninklijke Academie voor Beeldende Kunsten in The Hague in 2007. the subject of 'memories' plays a central role in her work. Cigar boxes are often used as canvas, but also pencil boxes, chess boxes or bigger wine boxes. The memory has solidified into a snapshot, a feeling.
Her works are all painted with acrylic paint directly on the untreated wood. This direct approach leaves a lot of room for the material. In the works, the wooden background, the drawing and the texture have therefore become an inseparable part of the painting.
after this series of "memories in a box' was sold i commissioned esther to make a small series of seascapes. and again she managed to capture memories in a box; this time the stillness that gets you when looking over the sea and into the sky; Each weather condition stands for a different mood. this universal experience is made "personal" by the box itself; it feels the view is just for you to bring your own memories or dreams. for me this is true art.
i am delighted to introduce her work here as the first artist in this ' small art gallery'.
up till now she made about 70 unique painted boxes especially for matterofmaterial.com.
check here the current available paintings
arne leliveld
matter .of material